Perfect for...
BlackBerry training & demos:
Allow others to see what you are doing on your BlackBerry. Whether you use a projector, a web conference or screen capture software, viaDock is the ideal solution for demonstrating and training on BlackBerry apps.


Increased Productivity:
Keep using your secure BlackBerry connection for e-mail, BlackBerry messenger and access to enterprise data, but with the comfort of your PC or Mac's large screen and keyboard. It's great for any occasion when a secure connection is not available, whether at an airport, customer site or your local coffee shop.


A Single Computing Environment:
See who's calling, answer email and monitor your BlackBerry as you work at your computer, without even taking your BlackBerry out of your pocket. viaDock's mini view is perfect to keep up on your computer screen while you work. Plus, with clipboard sharing you can copy and paste between your BlackBerry and computer applications.


Help Desk:
Trying to troubleshoot a BlackBerry problem remotely? Simply have the user demonstrate their issue using viaDock during a web sharing session so you can really see what is going on. If they turn control over to you, you may even be able to fix the problem without ever touching the BlackBerry.


These are just a few of the ways people have told us they love using viaDock. Do have a creative use for it? We'd love to hear from you!
"Thanks to your team for a great product. We are a RIM partner and will be using this to do remote sales of our IaaS product for companies that want a fast and inexpensive way to add BES/BESX. We'll recommend it to our distributors."

Martin Roseman
Director of Sales & Marketing
CytexOne
Impatica viaDock enables you to access your BlackBerry from your personal computer. With Impatica viaDock, you can easily:
Create a fully integrated environment: Use your PC and BlackBerry applications through one single system when at the office, home or anywhere you use a PC.


Connect quickly and easily: Connect via Bluetooth or USB (Windows only) to your desktop or notebook PC.


Share clipboards: Easily copy and paste text between your PC and BlackBerry applications.
Quickly switch between BlackBerry applications: Use the application launcher or menu shortcuts to start using any application running on your BlackBerry.


Dial and receive phone calls: Use on-screen phone controls to quickly make and answer phone calls, enable and disable hands-free talking and turn on and off mute.


Know who is calling: Get instant notification of incoming calls while using viaDock, or through mini view when using other applications.


Monitor your BlackBerry status: Always know your battery and radio signal strengths at a glance.
Impatica viaDock can be operated in either normal view or mini view. The normal view displays the handheld screen, supports input from your PC keyboard and mouse and offers a variety of time-saving tools for operating your BlackBerry. The mini view is a small palette that can be kept in view while using other applications so that you may monitor your BlackBerry status and quickly place and receive phones calls.
Normal View
The normal view includes 5 areas as depicted below:
Handheld screen area: Provides a live display of your BlackBerry screen. The size of this area can be changed by resizing the entire viaDock window, or by using View > Handheld Zoom. The quality of the handheld screen area can be set to either high quality or quick by using View > Handheld Quality.
Phone controls: Includes answer and hang-up buttons, numeric keypad, hands-free and mute buttons, arrow buttons for navigating the BlackBerry and menu, select and escape buttons for controlling the BlackBerry. Display of these controls can be turned on off using the phone control button in the status bar, or by using View > Phone Controls.
Keyboard: Provides an on-screen keyboard for input to the BlackBerry, suitable for use with touch-screens (e.g., Tablet PCs). Display of the on-screen keyboard can be turned on and off using the keyboard button in the status bar, or by using View > Keyboard.
Application Launcher: Includes shortcut icons for all of the applications currently running on the BlackBerry. Click any of the icons to quickly switch applications. Display of the application launcher can be turned on and off using the application launcher button in the status bar, or by using View > Application Launcher.
Status Bar: Displays the BlackBerry's current battery strength, radio signal strength and incoming call notifications. Also provides buttons for showing and hiding other viaDock screen areas, turning on and off clipboard sharing and switching to mini view. Display of the status bar can be turned on and off using View > Status Bar.

Mini View
The mini view is a small window (shown below) that can be kept visible while using other PC applications.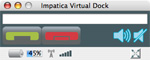 It provides you with ongoing status of your BlackBerry, including notification of incoming calls. Call answer and hang-up buttons are provided for quickly answering and placing calls. Hands-free and mute buttons are also available to simplify controlling your BlackBerry. A quick dial field is provided, allowing you to place a call by simply entering a phone number then clicking the green call answer button.
To return to normal view, click the normal view button in the status bar.