Project from a Handheld!
Impatica ShowMate is a small, lightweight hardware accessory to project:
PowerPoint presentations from BlackBerry, Palm, Sony Ericsson and Windows Mobile smartphones;
Screen contents from BlackBerry smartphones with BlackBerry OS 4.2.2 or later and from Windows Mobile devices.
Simply attach the ShowMate to the VGA port of any projector or monitor and your handheld delivers your PowerPoint presentation wirelessly using Bluetooth technology. You can now roam the stage and interact with the audience to deliver a more engaging presentation, without being tethered to a laptop. In fact, you can now travel laptop free!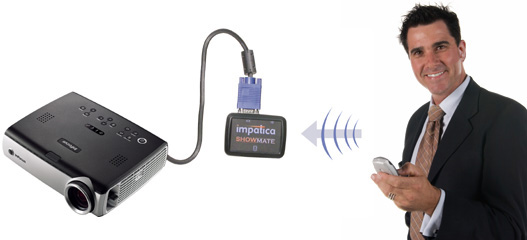 Move freely and interact with the audience while delivering a presentation and advancing the slides, all from a handheld.
Deliver presentations with full support of graphics, animations, slide transitions, and charts.
View the titles, text or presentation notes on the handheld while projecting.
Jump to any slide in the presentation to answer a question or emphasize a certain point.
Project your handheld screen and demonstrate other handheld applications (BlackBerry and Windows Mobile only).
Travel laptop-free!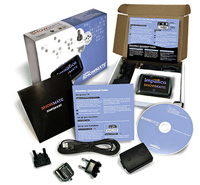 Impatica ShowMate
International power adapter
10 foot USB cable
QuickInstall and QuickStart Guide
CD-ROM with documentation, Impatica Viewer software (for BlackBerry, Sony Ericsson and Windows Mobile), Impatica Screen Projector (for BlackBerry) and Impatica for PowerPoint Mobile Edition software (for Windows 98/ME/NT/2000/XP/Vista/Windows 7) which:

Converts your PowerPoint presentations for transfer to the handheld
Reduces PowerPoint files to only 5-10% of their original file size for efficient wireless transfer and optimal viewing on the handheld
Preserves graphics, charts, animations and slide transitions